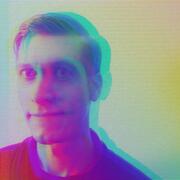 Writer.
That's It.
But Maybe Another Thing...
Nah, I Don't Think So.
...
Funner💥.
---
---
ABOUT
Hi! 👋
I'm Jeremy Bauer. I write, I joke, and sometimes people laugh at these jokes. But they'll only every admit to this once and never in front of other people.


Them's the brakes, I guess, so please: cut a different wire.
---
I've had fiction, nonfiction, and poetry published in various literary magazines and had a limited-run chapbook of poems published called The Jackalope Wars (now totally 🆓 online〰️). You can check out my work at the WRITING 📖 link above.
---
On October 31st, 2017, I started ✨ an experimental fiction blog called MOON COMPUTER ✨ that I post on weekly. The Moon Computer appears in places computers shouldn't and primarily functions to collect data on all the world's weirdness, like mech-suits made out of mobile homes, teenage mages, monster girls investigating mysteries even though it's blah, and werewolves that love Dolly Parton and hate domestic violence.
---
SOME INTERESTS
UX Writing & Design 〰️ ✍️ Studying front-end development 🌈💻Spooky-fun stuff, like cryptids 🌲 👣 🌲, aliens that don't get weird about it 👽 ✨, werewolves riding on cars 🚗 🐺 , toxic wastoids ☢️ 💪, etc.Comics 💭💥
---
Professionally, I used to manage an e-learning team building online courses in the arts. Now I help people use design tech 🎨⚡ .

My social media profiles are gathered on this site, so feel free to reach out!
---